About Lady Dog Walker
My name is Gill,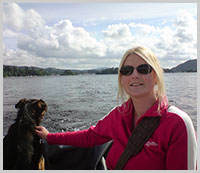 I have a dog of my own, who is my best friend, and spoilt rotten!
I have owned dogs for the past 20 years, my previous dog (Charlie) lived to the ripe old age of 14, a Bichon Frise.
My current dog, Dusty, is a Border Collie Cross, she is beautiful (and she knows it) we have spent many hours walking and playing ball.
I am happy to walk in any weather, our British weather will not beat me. Don't worry about being let down... it won't happen!
I have access to a private 4 acre park for dogs who don't socialise well or prefer to play ball instead of walk.
Safe transport
Police checked and fully insured.